#IAMSTILLIN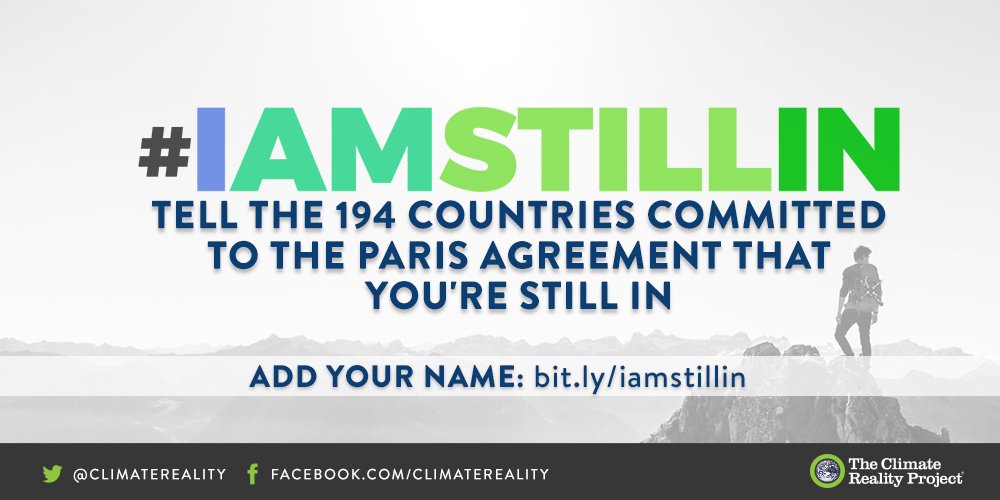 In the past few weeks, you've probably heard a whole bunch of buzz about this so-called Paris Agreement. President Trump announced earlier this month that the U.S. will be withdrawing from the Paris Agreement, which aims to combat climate change on a global scale by cutting each country's greenhouse gas emissions. The agreement was monumental in that nearly the whole world had agreed on it (a whopping 195 countries!). Now, the U.S. will join Syria and Nicaragua as the only countries on the planet who did not sign the agreement. For the record though, Nicaragua chose not to sign because they thought the agreement was too weak. As the temperature of the Earth's oceans and air continues to increase, we have little time to waste denying man's contribution to climate change. In fact, 2016 was declared the hottest year on record. Worry not, though, because there's still hope. Even though the federal government has de-prioritized climate change, many cities and states have reaffirmed their commitment to combatting global warming. As stated in Michael Bloomberg and Carl Pope's new book, Climate of Hope:
"Cities, businesses, and citizens can lead – and win – the battle against climate change, no matter which way the political winds in Washington may shift."
With the U.S's withdrawal from the Paris Agreement, governors, mayors, businesses, and universities across the country are stepping up to work toward its goals -- they're still in and you can be too. Tell the world #IAMSTILLIN by pledging to commit yourself to the Paris Agreement.
#US #cities are standing up for #ClimateAction https://t.co/pfZROsxEk8 #ParisAgreement, tell the world #IAmStillIn https://t.co/jzJ8rTov3Z pic.twitter.com/5l5I2UFa5w

— Impact Human (@ImpactHuman) June 16, 2017
Join a community of peacemakers and start your own environmental project today!